WSAC Members attend the 84th Annual National Association of Counties' Annual Conference
This past week, over 30 Washington State county elected and appointed officials, led by WSAC President Scott Hutsell, joined their peers from throughout the nation to share the challenges, successes, and solutions to bolster America's communities. WSAC members were part of the more than 3,000 county leaders that learned about an array of issues during over three dozen workshops and meetings that included:
Supporting our Nation's Aging Population at the Local Level
Behavioral Health and Justice Innovations
Addressing Youth Substance Abuse
Public-Private Partnerships as a Catalyst for Urban Innovation
Understanding the County Role in the Growing World of Legal Cannabis
Disaster Management – Improving Your Role in Incident Management
Economic Impact of Outdoor Recreation
Federal Policy Outlook
Telling Your County's Story When the Media Won't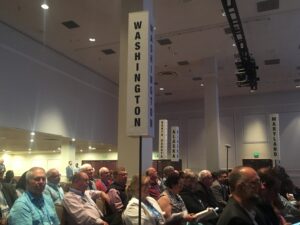 During the conference, WSAC members led or participated on a number of NACO Steering Committees, Task Forces, and Caucus'.  WSAC members submitted several policy positions as well as worked with their peers to develop policy positions on the most pressing federal policies affecting counties that resulted in the approval of the America County Platform (https://www.naco.org/advocacy/american-county-platform).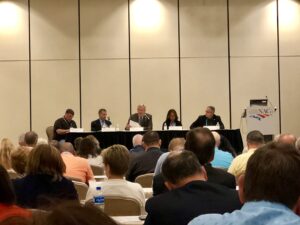 Washington State native and the United States Forest Service Chief Vicki Christiansen spoke to the Western Interstate Board of Directors about the important partnership with counties on the implementation of forest collaboratives, forest health improvements, protecting our nations' forests from catastrophic wildfires and keeping SRS and PILT Funding coming to counties!
During the meeting, attendees elected the NACo Leadership Team of:
NACo President – The Honorable Mary Ann Borgeson, Douglas County, Nebraska
NACo First Vice President – The Honorable Gary Moore, Boone County, Kentucky
NACo Second Vice President, The Honorable Larry Johnson, DeKalb County, Georgia
NACo Immediate Past President, The Honorable Greg Cox, San Diego County, California
Also selected was County Commissioner Joe Briggs (Cascade County, Montana) as the Western Region Representative on the NACo Executive Committee.
For more information about the conference is available here. For more information about NACo visit http://www.naco.org.