In 2019 the Legislature approved (HB 1406) a local revenue sharing program for local governments by providing up to a 0.0146% local sales and use tax credited against the state sales tax for housing investments, available in increments of 0.0073%, depending on the imposition of other local taxes and whether cities within your county also take advantage.
The tax credit is in place for up to 20 years and can be used for acquiring, rehabilitating, or constructing affordable housing; operations and maintenance of new affordable or supportive housing facilities; and, for smaller counties, rental assistance. The funding must be spent on projects that serve persons whose income is at or below sixty percent of the area median income. Counties can also issue bonds to finance the authorized projects.
This local sales tax authority is a credit against the state sales tax, so it does not increase the sales tax for the consumer. There are tight timelines that must be met to access this funding source – the first is January 31, 2020 to pass a resolution of intent. The tax ordinance must then be adopted by July 27, 2020 to qualify for a credit.
There are fast approaching timelines that must be met to access this funding source.  You must pass a resolution of intent by January 1, 2020. A tax ordinance must then be adopted by July 27, 2020.
Don't miss out on learning about and taking advantage of this very important revenue being made available to counties for affordable housing. Join us for a webinar at 1:00 p.m. on August 20, 2019 that will explore options and considerations for the use of these revenues, how to access these revenues, and deadlines you need to keep in mind. Follow this link to register.
Resources
We are continuing to collect resources on this topic and will update as they come in.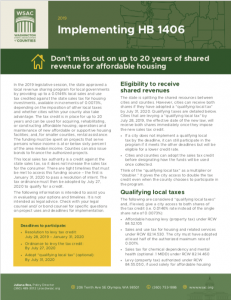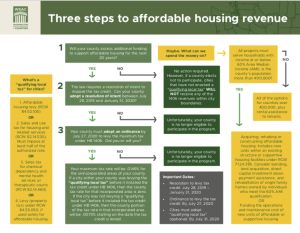 The Washington Low Income Housing Alliance has several resources on their page including a webinar recording, the PowerPoint slides. They also have a sample resolution ordinance of intent to implement 1406 by the Pacifica Law Group, and an excel sheet that counties are estimated to take in based on 2018.
There are also more resources on the MRSC Insight page and how to implement HB 1406 on the Association of Washington Cities website.